ROADMAP FOR A NEW WELLNESS STORY®
7 Steps to Enhance Health and Longevity
A Self-Guided Online-Retreat with David Krueger MD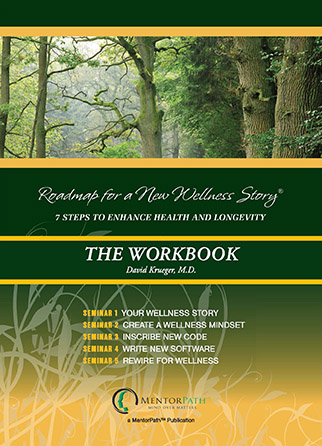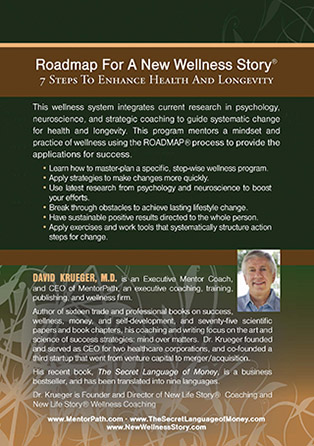 Who should take this course? Consider if you have any of these challenges with your wellness story:
Do not systematically exercise or eat healthily
Use any substance like food or alcohol to regulate tension or manage emotions
Consistently create obstacles to sound mind, body, and spirit wellness
Have secrets or shame around food or your body image
Have trouble sticking to your plan for regular exercise or better nutrition
Write two wellness stories simultaneously. For example, the surface story: I want to create mind, body, and spirit wellbeing. The shadow story: I don't know how to start a plan to do that.
Or have any of these persistent roadblocks:
Feel ashamed or frustrated because of your relationship with food, weight, or eating
Know there is more to life, but don't know how to create it
Feel there is something missing in your life that you attempt to fill with food, or some compulsive activity
Feel hopeless about being free from a preoccupation about body image and self esteem
Worry about health, longevity, or financial wellbeing
Do you want:
Healthier habits, but don't know how to maintain them?
Less stress?
Whole person health?
Lasting improvements in your mind and body?
Most strategies to facilitate lasting change for wellness fail because they are contrary to how the mind and brain work.
Intentions need a strategy and plan: a ROADMAP®
This wellness system integrates current research in psychology, neuroscience, and healthcare with strategic Mentor Coaching to guide systematic change for health and longevity. The program mentors a mindset and practice of wellness using the ROADMAP® process to provide the applications for success.
ROADMAP FOR A NEW WELLNESS STORY® will guide you to:
Learn how to master-plan a specific, step-wise wellness program
Apply strategies to make changes more quickly

Use the latest research from psychology, neuroscience, and healthcare to boost your efforts

Break through obstacles to achieve lasting lifestyle change

Have sustainable positive results directed to the whole person

Apply exercises and work tools to systematically structure action steps for change
Roadmap For A New Wellness Story® Workbook of annotated exercises including the ROADMAP System (acronym for the 7 step program) will inform your choices, map new possibilities, and guide strategic changes of mind, brain, and behavior.
In this Self-Guided Online Retreat, you will have a unique opportunity to study with and be mentored in the comfort of your home or office. Transform your wellness story in ways you never thought possible. Develop success strategies for mind, body, and spiritual wellness. Your New Wellness Story® Self-Guided Online Retreat is a guide for your wellness story as well as for your life story.
For a period of five weeks, Dave presents 5 Seminars and accompanying Workbook exercises and work tools to guide you to understand and change your wellness mindset and practices. These seminars, exercises, and work pages apply mind and brain sciences to navigate a journey of transformation of your wellness story that can make a significant difference for your health and longevity.
Five Online Retreat audios by David Krueger, MD that you will receive weekly to mentor your journey of transformation:
Seminar 1. Your Wellness Story
Seminar 2. Create a Wellness Mindset
Seminar 3. Inscribe New Code
Seminar 4. Write New Software
Seminar 5. Rewire for Wellness
When you register, you will receive:
An immediate download of the entire Workbook, ROADMAP FOR A NEW WELLNESS STORY®7 Steps to Enhance Health and Longevity
An Outline of the 5 Audio Seminars
Audio Program for Seminar 1
Each subsequent Audio Program on a weekly basis—online and downloadable
Just 5 short weeks to learn the art and science of lasting change
to successfully transform your wellness story.
How much does it cost for the Self-Guided Online Retreat?
Was $197 – Now Only $97
You can register easily using your credit card or PayPal by clicking on the button below.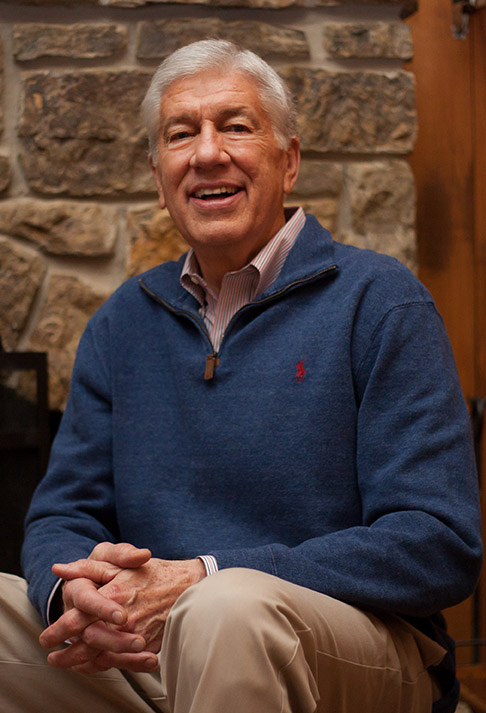 About David Krueger MD
David Krueger, M.D. is an Executive Mentor Coach, and CEO of MentorPath, an executive coaching, training, publishing, and wellness firm. His approach integrates the insights of psychology, neuroscience, and quantum physics with strategic coaching to help professionals and executives write the next chapter of their life or business stories.
He helps practicing and performing professionals achieve and sustain peak performance.
His clients have included CEOs of multinational corporations, business owners, best-selling authors, professional athletes and actors. He has served on private and corporate boards, founded and served as CEO of two healthcare corporations.
Dave is Founder and Director of his own Licensed, Specialty-Certified New Life Story® Wellness Coaches Training www.NewLifeStoryWellness.com and New Money Story® Mentor Training www.NewMoneyStoryMentor.com  He has trained Mentor Coaches worldwide.
Dave has published 24 books and seventy-five papers and book chapters on success, money, wellness, and self-development, including the Business Bestseller, The Secret Language of Money (McGraw Hill), translated into ten languages.  He has been quoted in Money, Fortune, Forbes, Town and Country, the New York Times, and the Wall Street Journal, has written national feature columns, and was elected to the American Society of Journalists and Authors. His latest book releases are:
Engaging the Ineffable: Toward Mindfulness and Meaning (Paragon House)
Your New Money Story: The Beliefs, Behaviors, and Brain Science to Rewire for Wealth 
(Rowman & Littlefield, NewYork / London)
 You can register using your credit card or PayPal. Money back guarantee.
Words are not effective enough to express my appreciation for the step-by-step instruction on how to change one's life and wellness story.
Marilyn Blackston, MD
Original, positive, inspiring and motivating.
Penny Hooks MD
Psychiatrist and Psychoanalyst
Dr. Krueger offers us an absolutely brilliant approach to creating a new wellness story. Through exercises and personal editing steps, he gently takes us on a journey of self-discovery ultimately leading to personal freedom.
Ardath Rodale
Chief Inspiration Officer, Rodale Inc.
This program gets to the core of change and shows us how to do it. The richness and depth of the lessons make it an invaluable tool that will profoundly change many lives.
Katie Jay
Director, National Association for Weight Loss Surgery
I am in awe. I cannot tell you how impressed I am—just terrific stuff.
Jonny Bowden, PhD, CNS
Author, The Most Effective Natural Cures
on Earth, and 150 Healthiest Foods on Earth
These exciting tools will jump-start a rewrite of my own story and help to support others in their desire for change. The clear examples are fun and rejuvenating, and visually lock in the concepts.
Doreen Kahale
Wellness Coach
The concept of looking at life and wellness as a story was absolutely incredible. It's almost a magical experience that you can see unfold before you very eyes. I absolutely loved it.
Hilda Matos, CLC
ROADMAP is powerful to show that it is indeed possible to break old habits and form new neuronal pathways to enhance the lives of my clients.
Diane Riopelle, CLC
I experienced change within myself as a result of your very informative and well-constructed material. I plan to help my colleagues and patients move forward to improve their performance.
Phillipa Wilson RN, CTACC