TELLING & SELLING YOUR STORY
The Art, Craft, Science, and Business of
Authoring Your First Book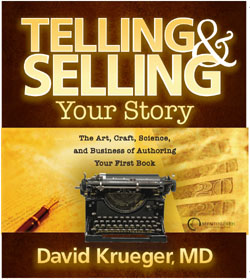 Writing a book can be engaged in a systematic, structured way for effective and successful results.
The Workbook and CDs address four essential components of writing and marketing a successful book: the art, craft, science, and business. Each section also contains writing exercises and tools to strategically plan and execute your book project.
| | |
| --- | --- |
| | Instant Digital Download: |
We write to see what we have to say.
We write about what we most want or need to learn.

Using materials and resources designed especially for the first time author, you learn how to overcome all the hidden obstacles.
In this seminar series on CDs and Workbook, you will:
Use a powerful writing system to complete your book
Discover the seven habits of successful writers
Learn the architecture of a book
Explore the spectrum of publishing possibilities
Recognize how books are marketed
Add visibility and credibility to enhance practice and income
Cement your position as an expert
Learn proven methods to build platform
Your Expert Guide
The text and CD's by David Krueger MD were originally presented as a successful seminar series. He is an Executive Mentor Coach and CEO of MentorPath, a coaching, wellness, training and publishing firm. A Coach Training Alliance Faculty member and Dean of Curriculum, he has a licensed, specialty-certified training for New Life Story® Wellness Coaches and New Money Story® Mentors.
Dave has authored 17 books, is a national feature columnist, and was elected to the American Society of Journalists and Authors. He has published with large and small traditional publishing houses, print on demand, eBooks, fulfillment houses, as well as forming his own publishing group, MentorPath Publications.
Dave's latest book, The Secret Language of Money (McGraw Hill) is a Business Bestseller, translated into 10 languages.
Who Is This Program For?
Soon to be authors looking to learn the inside secrets to the art, craft, science, and business of not only writing your first book – but how to market it succesfully.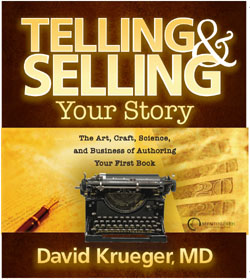 Begin Now
In each session, Dr. Krueger—in his warm, down-home style—shares first-hand experience and critical insights into the fascinating world of publishing.
– Order today and receive 2/3 off the regular price
– You Save $198.00
| | |
| --- | --- |
| | Instant Digital Download: |
Your Order Today Includes:

Hardcopy
– Shipped

CD's
– Shipped