Roadmap for a New Wellness Story® Seminar Series
7 Steps to Enhance Health & Longevity
by David Krueger, MD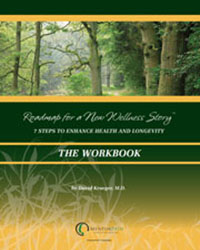 This wellness system integrates current research in psychology, quantum physics, neuroscience, and healthcare with strategic coaching to guide systematic change for health and longevity. The program mentors a mindset and practice of wellness using the ROADMAP® process to provide the applications for success.
Do you want:
Healthier habits, but don't know how to maintain them?
Less stress? 
Whole person health?
Lasting improvements in your mind and body?
Most strategies to facilitate lasting change for wellness fail because they are contrary to how the mind and brain work.
Intentions need a strategy and plan: a ROADMAP®
Learn how to master-plan a specific, step-wise wellness program. 
Apply strategies to make changes more quickly. 
Use latest research from psychology and neuroscience to boost your efforts. 
Break through obstacles to achieve lasting lifestyle change. 
Have sustainable positive results directed to the whole person. 
Apply exercises and work tools that systematically structure action steps for change. 
Five CDs recorded by David Krueger MD to accompany the Workbook to mentor your journey of transformation:

SEMINAR 1 Your Wellness Story 
SEMINAR 2 Create a Wellness Mindset 
SEMINAR 3 Inscribe New Code
SEMINAR 4 Write New Software 
SEMINAR 5 Rewire for Wellness 
Roadmap For A New Wellness Story® Workbook of annotated exercises includes the ROADMAP® Program to inform your choices, map new possibilities, and guide strategic changes. ROADMAP® is the acronym for the 7 steps to reprogram mind software and rewire brain hardware for wellness.
A New Life Story® Program from MentorPath® Publications
| | |
| --- | --- |
| 5 Seminar CDs + Workbook | 5 Seminar mp3s + pdf of Workbook |
Workbook Only Options
 Hardcopy  PDF Version
Become Licensed and Specialty-Certified 
as a New Life Story® Wellness Coach. Mentor clients in the art and science of dynamic wellness success strategies:  
Mind Over Matters Information and Registration: New Life Story® Wellness Coaches Training
REGISTRY NEW LIFE STORY® WELLNESS COACHES 
The Wellness Coaches and companies in this Registry have been trained, Specialty-Certified, and Licensed to mentor clients as New Life Story® Wellness Coaches 
New Life Story® Wellness Coaches Registry
Invaluable insight into how I can construct the life I want; it taught me the secret behind The Secret. 
Written by
—Sherman Minter: Founder, The Principal's Office
Your unique material convinced me that individual change can be modeled; it helped me create phenomenally positive and desired changes.
Written by
—Robert L Monte, BA, LLB
A great insight into the journey of change and its management. The exercises are effective for self, and for clients grappling with the challenges of transitions in their lives. 
Written by
—Jean Visca, CLC : Partner, Network ISG
WELLNESS TELESEMINAR SERIES
Contact David Krueger, MD at dkrueger@mentorpath.com for custom presentation to your group or corporation.