Dear Colleagues,
I want to thank you for your enthusiasm around our work together by extending a partnership offer to you. Many of you have asked about a partner program to promote the products and services you are familiar with and can personally endorse. That alone makes a unique affiliate relationship. So the answer is a resounding yes.
Make 40% commission for all products in the MentorPath Partners program!
Not only can you join our team and help spread the word about products you know and use, you get rewarded for your efforts.
Our system does all the work for you. It tracks referrals and pays you top dollar for every new product sold.
Click here to see just how easy it is to become a partner with MentorPath.
Thank you very much.
Dave Krueger
If you have no idea how to add html code into your website and do not have a webmaster please contact Support@MentorPath.com and we'll be more than happy to help you copy and paste codes from the Partner's Program into your website with you for free!
Currently Featuring Generous Partnerships on the Following Programs:

The Art, Craft, Science, and Business of Authoring Your First Book
Writing a book can be engaged in a systematic, structured way for effective and successful results.
The 4 CDs and Workbook address four essential components of writing and marketing a successful book: the art, craft, science, and business. Each section contains writing exercises and tools to strategically plan and execute your book project.

How Neuroscience and Quantum Physics Can Help You Change Your Life The brain has a mind of its own. And both our minds and brains resist change. This book applies current research in neuroscience, quantum physics, and psychology with strategic coaching.
Structure interventions to modify brain codes
Engineer software and hardware changes of your mind and brain
Build new motivation systems
Guide the creation of new success-oriented belief systems

The Art and Science of Change, Reinvention, and Success
A Book: Ten Modules present the principles, methods, and case illustrations to mentor new life, money, career, and relationship stories. 345 page book includes Live a New Life Story® Glossary.
A Workbook: An annotated guide to the application of change using 68 New Life Story® proprietary tools, exercises, and quizzes.
The ROADMAP® Program: 7 Steps to Live a New Life Story®. A philosophy, plan, and techniques to change beliefs, behaviors, and performance.
A Complete Curriculum:The program to train and mentor New Life Story Coaches®

The Art and Science of Change, Reinvention, and Success
Ten Modules of principles and methods for new life, money, career, business, relationship, and wellness stories.
The ROADMAP® Program 7 Steps to Live a New Life Story®. A philosophy, plan, and techniques to change beliefs, behaviors, and performance.
New Life Story Glossary® defines and illuminates core concepts
Apply 68 New Life Story® tools, exercises, and quizzes to guide your application of change.
A Seminar Series on 5 CDs with Workbook to apply the proven system of New Life Story® Coaching and its 7 scientific steps of transformation to The Secret Language of Money (McGraw Hill) by David Krueger MD, a Business Bestseller translated into 10 languages.
Introducing Emotional Economics®: The study of the interactions of mind and brain impacting money behavior and financial decisions. This Seminar Series and Workbook will present a systematic way to recognize and assess a money story, and to master the art and science of financial empowerment. Also available digitally.
Your New Money Story®
Decipher the secret language encrypted in money
Move from fear of money to mastery
Identify the self-statements made with money behaviors
Recognize money behaviors ghostwritten by your mind's hidden assumptions
Overcome your brain's patterned responses that lead to bad decisions
Develop the art and science of money strategies
Identify and remedy 27 emotionally based financial fallacies
Also available digitally.
 
7 Steps to Enhance Health and Longevity Intentions need a strategy and plan: a ROADMAP®
This wellness system integrates current research in psychology, quantum physics, neuroscience, and healthcare with strategic coaching to guide systematic change for health and longevity.
The program mentors a mindset and practice of wellness using the ROADMAP® process to provide the applications for success.
Learn how to master-plan a specific, step-wise wellness program.
Apply strategies to make changes more quickly.
Use latest research from psychology and neuroscience to boost your efforts.
Break through obstacles to achieve lasting lifestyle change.
Have sustainable positive results directed to the whole person.
Apply exercises and work tools that systematically structure action steps for change.
Also available digitally.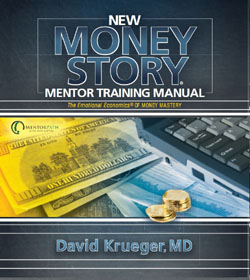 The Emotional Economics® of Money Mastery
A master system with concrete assessment and action steps for mentoring a New Money Story® interwoven with life, career, relationship, and wellness stories.
Understand clients' relationships with money and change their money stories
Learn the art and science of mentoring change of mind, brain, and behavior
Overcome money mistakes and financial fallacies
Develop success strategies and paradigms for financial empowerment
Master states of mind to regulate access for optimum success
Integrate successful money stories with careers of purpose and passion
Develop a financial wellness that incorporates mind, body, and spirit
Master the mentoring process as choice architect and hope engineer
Groundbreaking research in neuroscience, psychology, behavior economics, and quantum physics integrate with strategic coaching to catalyze behavioral change, rewrite mind software, and rewire brain hardware.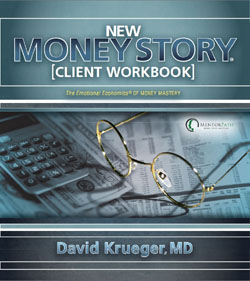 The Emotional Economics® of Money Mastery NEW MONEY STORY® CLIENT WORKBOOK guides clients to understand money relationships and change money stories.
This step-wise manual with 104 proprietary tools of exercises and work pages informs choices, maps new possibilities, and navigates a journey of transformation. The ROADMAP system is a seven-step process to address changes of behavior, mind, and brain.