New Life Story® Wellness Coaches Training
Enhance Effectiveness to Transform Lives
by David Krueger, MD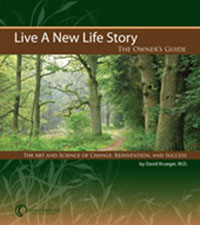 The curriculum, Live A New Life Story®
The Owners Guide, includes the ROADMAP Program (a seven-step template for change) and modules that guide successful life, money, career, relationship, wellness and mindset story changes.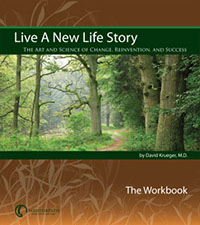 At the center of the curriculum is the Workbook with 68 proprietary tools and exercises licensed for the New Life Story Coach® to use in practice with clients.
This coach-specific training program teaches the Core Competencies of the International Coach Federation and may be applied toward certification through the ICF Portfolio Track.
This course is approved for 15 Total ICF CCEU Hours, 9 CCEU hours relating to ICF Core Competencies, and 6 CCEU hours relating to Other Skills & Tools.

Become a Licensed, Specialty-Certified New Life Story® Wellness Coach to enhance your effectiveness to transform lives.
New Life Story® Wellness Coaches Training is a licensed, specialty-certified program for Professionals who want to add a significant dimension of scope and mastery to their practices. This unique and effective system blends the insights of psychology, dynamic neuroscience, and the principles of strategic coaching to mentor clients' new life and wellness stories.
Upon completion of your training you will be able to:
Transform life and wellness stories using the trademarked Live A New Life Story ROADMAP® Protocol, a 7-step template for change.
Implement a proven, successful system for extended coaching engagements of 28-sessions and longer.
Mentor clients in the art and science of dynamic success strategies: Mind Over Matters.
Learn a guided master plan with strategic action steps to write the next chapters of a life or wellness story.
Apply new research from psychology, neuroscience, and quantum physics with strategic coaching to implement changes of belief, behavior, and performance.
Discover the powerful impact of understanding and regulating states of mind, and how to access states of mind for optimum success.
Integrate new coaching techniques with your expertise in the creative art process to uncover the common yet elusive challenges and obstacles to achievement.
How It Works
Creating new experiences changes neuronal pathways and networks in the brain. It even alters neurotransmitters and gene expression. In plain language, when we change our minds, we change our brains. Both developmental psychology and neuroscience validate the power of a new story.
How It Works for You
You are licensed to use the New Life Story® Coaching Program and intellectual property with individual clients, as well as for groups, workshops, and seminars on numerous topics including: New Money Story, New Relationship Story, New Career Story, New Wellness Story, Mastering States of Mind, and Evolving New Mindsets.
The curriculum, Live a New Life Story® The Owner's Guide is a 305-page manual incorporating the companion New Life Story Workbook® with 68 tools and exercises licensed to you. The Workbook can be co-branded with your printed name on the cover and contact information as a first page.
How It Works for Your Clients
Ten Modules guide you mentor coaching transformation of their life, money, career, relationship, and Live a New Life Story® modules can be used in sequence, separately, or in combination. You determine the scope and sequence for using this system in a way that best suits your client.
New Life Story® Wellness Coaches Training integrates the mind and brain sciences with strategic coaching for you to help clients:
Recognize and accept story ownership
Examine explicit and implicit storylines
Assess what to change
Masterfully guide change
Create new experiences
Evolve new identity to sustain the new story
Your Training
A convenient Online Training format delivers the fundamental skills you need to help your clients evolve new mindsets to write a new wellness story. 12-week certification training provides you with the tools and understanding for successfully implementing the New Life Story® coaching system. The 12 recorded seminars with corresponding Curriculum and Client Workbook:
The Power of Story
Assessing and Owning Your Story
Deciding What to Change
Mapping Changes
Authoring New Experiences
Mastering States of Mind
Advancing the Plot
Your New Money Story
Your New Career Story
Your New Relationship Story
Your New Success Story
Your New Wellness Story
Live a New Life Story® integrates the dynamic insights of psychology and neuroscience with the principles of strategic coaching and life fulfillment. No other coaching system reaches this depth of wisdom or rises to this level of sophistication.
Your Expert Guide
David Krueger, MD is an Executive Mentor Coach and is CEO of MentorPath®, an executive coaching, training, publishing, and wellness firm. He guides practicing and performing professionals to achieve and sustain peak performance. Dr. Krueger integrates a vast expanse of knowledge into his training, drawing from his prolific career as:
Author of 24 trade and professional books on success, wellness, money, and self-development, and 75 scientific papers
Founder and Director of the Licensed, Specialty-Certified New Life Story® Wellness Coaching
Founder and Director of the NeuroMentor® Institute for Peak Performance
Dean of Curriculum for Coach Training Alliance
Trainer of professionals worldwide, working with executives of Fortune 500 companies and developing internal mentor programs for organizations
Advisory Board and Contributing Faculty at Bauer College of Business at the University of Houston
Top Executive Mentor Coach of the Year for 2021, named by the International Association of Top Professionals (IAOTP)
Lifetime Achievement Award, granted by the International Association of Top Professionals (IAOTP)
Former Psychiatry and Psychoanalysis practitioner and instructor
Former Clinical Professor of Psychiatry at Baylor College of Medicine
Overview
When you complete your training and certification as a New Life Story® Wellness Coach you are adept at applying the exercises and working the tools that systematically guide action steps for change and possibility.
Live a New Life Story® methods, workbook, assessment tools, guides, self-quizzes, and logo are licensed for use by you, the Certified New Life Story® Wellness Coach.
You stay connected with updates and group consultation with Live a New Life Story® creator David Krueger MD. You are part of the team and have the opportunity to participate in the Quarterly Mentor Groups with Dave for information, updates, and support.
THE COMPLETE
New Life Story® Wellness Coaching System
Training and Certification
12 recorded seminars (45 minutes each) by system creator and developer, David Krueger MD.
Live a New Life Story®: The Owner's Guide – A 305-page comprehensive curriculum manual that incorporates:
Ten Modules of proven principles, methods, and techniques along with actual real-life case studies and practical applications.
68 New Life Story® Proprietary Tools exclusively licensed to the certified New Life Story® Coach.
Live a New Life Story® Workbook: 136-page guide with tools, exercises, and quizzes for your clients with suggested use and timing.
Live a New Life Story® ROADMAP Protocol, a 7-step template for defining the scope and sequence of a client's journey.
ROADMAP System® and New Wellness Story® Workbook to use with individual, group, and corporate clients.
New Life Story® Glossary defines, clarifies and illuminates core concepts and guiding principles.
Live a New Life Story® brochures and marketing materials promotes you to your new clients and prospects.
Partner Program The Live a New Life Story Workbook® and all New Life Story Coaching tools are available for use by graduates, along with a generous MentorPath Partners affiliate program.
Referral Network Registry of Certified New Life Story® Wellness Coaches who are licensed to use Live a New Life Story® Workbook, ROADMAP for New Wellness Story® Workbook, and other products with clients serving as a referral network.
Ongoing Support included in the program.  Quarterly mentor groups with David Krueger, MD, including a White Paper, with discussion each quarter of best practices, successful marketing, and brainstorming challenges and questions.
 NEW LIFE STORY® WELLNESS COACHING
LICENSED, SPECIALTY-CERTIFICATION ONLINE TRAINING
Curriculum: Live a New Life Story: The Owners Guide
Live a New Life Story: Client Workbook
12 recorded seminars presented by David Krueger MD for online playback or mp3 download with permanent access.
Syllabus, Outline, and Coaching Protocol
This training is self-paced; completion of training is expected within 90 days.
I will bring you the most current, integrated, comprehensive Mentor Coaching system available, and work to develop referrals for your practice.
Click the button below to make 3 PAYMENTS of $397 each
(plus a one-time shipping fee of $19.95)