MENTOR COACH CORE MASTERY PROGRAM

The Art and Science of Human Capital Enhancement
The Challenge
Outstanding leaders successfully build and manage co-creative relationships with individuals within their organizations. In your efforts to maximize engagement, retain top talent, develop leadership, and foster optimum performance, have you encountered these challenges:
Why do people resist change? Even changing something that doesn't work.

Why is regulating states of mind so crucial to deal with workplace stress?

How can leaders learn the art and science of facilitating change and transition?

How can conversational, emotional, and social intelligence be used to enhance performance?
How will Mentor Coach Core Mastery Training benefit?
Master the human technologies to maximize performance and financial results

Improve engagement and retention

Facilitate transition management

Enhance leadership development

Develop informed leadership tools and mentors

Maximize performance and financial results
Who is ideal for the Mentor Coach Core Mastery Training?
Leaders with employee or supervisor responsibilities:
Professional Managers: Healthcare, Legal, Financial

HR Executives

Executive Development Programs

Organizational Mentor Programs

Managerial Training Programs

Professional and college Performance Coaches
What makes Mentor Coach Core Mastery Program work?
Mentor Coach Core MasteryIs a proven, effective mentoring training system to help maximize an organization's greatest assets: human capital. The integration of the mind and brain sciences with strategic coaching and mentoring form the foundation of a comprehensive system provided with live training seminars and Curriculum.
While many of the methods to facilitate change are contrary to way the mind and brain work, the Mentor Coaching Core Mastery Program and Resource Guide integrate the mind and brain sciences with strategic performance strategies to build collaborative alliances.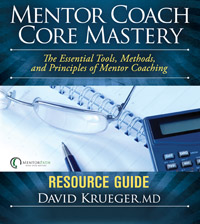 TABLE OF CONTENTS
Click here for article: ORGANIZATIONAL MENTOR COACHING BENEFITS
MENTOR COACH CORE MASTERY®
A MentorPath® Program
Learn the mind and brain science of effective change for individuals and systems.
Create a collaborative alliance with your team.
Build an Internal Mentor Program.
Training Seminars, Resource Guide,
and follow up facilitation will be customized to your group.
For training tailored to your executive or professional group, contact:
David Krueger MD
CEO, MentorPath
dkrueger@mentorpath.com281.397.9001
The Mentor Coach Core Mastery Program is accredited by the International Coaching Federation (ICF).