LIVE A NEW LIFE STORY®
– THE WORKBOOK
The Art and Science of Change, Reinvention, and Success
David Krueger MD
What is LIVE A NEW LIFE STORY® – THE WORKBOOK ?
Ten Modules of principles and methods for new life, money, career, business, relationship, and wellness stories.
The ROADMAP® Program 7 Steps to Live a New Life Story®. A philosophy, plan, and techniques to change beliefs, behaviors, and performance.
New Life Story Glossary® defines and illuminates core concepts
Apply 68 New Life Story® tools, exercises, and quizzes to guide your application of change.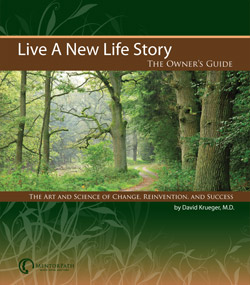 Learn a comprehensive philosophy of mindset change.
Implement the latest psychology and neuroscience research to strategically change belief, behavior, and performance.
Maximize new coaching techniques for mindset changes.
Harness the power of regulating and accessing states of mind for optimum success.
Demystify and defuse obstacles to achieving and sustaining success.
Develop the art and science of success strategies: mind over matters.
LIVE A NEW LIFE STORY®


– THE WORKBOOK
New Life Story Coaches® Curriculum includes:
The Workbook
Life Story Glossary
ROADMAP® Program
| | |
| --- | --- |
| Hardcopy Shipped | Digital Download |
LIVE A NEW LIFE STORY®
THE WORKBOOK
The Art and Science of Change, Reinvention, and Success